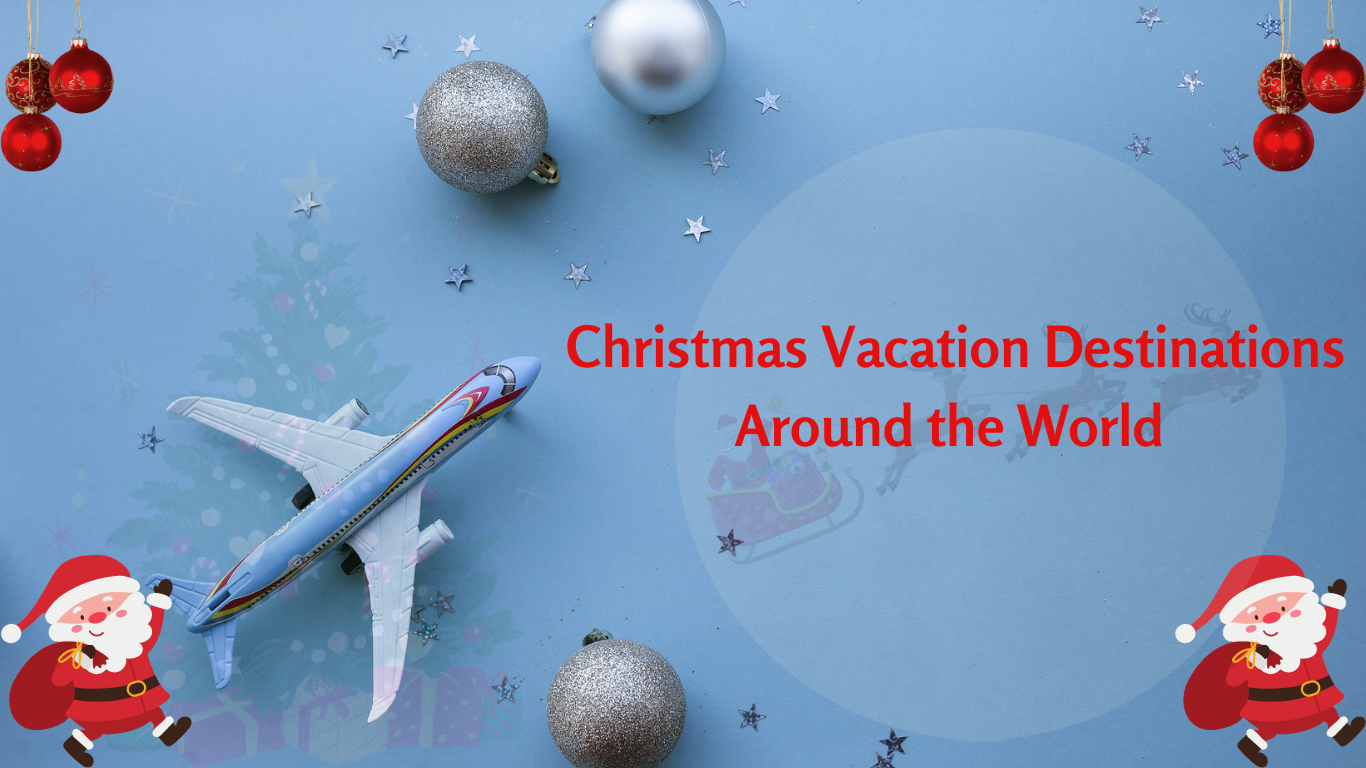 With the Christmas holidays fast approaching, the allure of a perfect festive escape is undoubtedly on your mind. The question is, where to find that ideal holiday haven?
Let me play the role of your holiday helper as we delve into the top 15 Christmas destinations for your upcoming getaway. Whether you're yearning for a snowy retreat or picturing yourself on sun-soaked beaches, these destinations offer more than just a change of scenery; they promise a touch of magic to make your Christmas 2023 truly extraordinary.
So, let's unwrap the possibilities and discover the enchantment that awaits you in these delightful corners of the world.
1. Lapland, Finland: Santa's Hometown
Start your Christmas adventure in Lapland, Finland—the official hometown of Santa Claus. Imagine the smiles on your loved ones' faces as you glide through snow-covered landscapes on a reindeer sleigh, explore Santa's workshop, and witness the enchanting Northern Lights painting the night sky. Lapland offers more than just a destination; it's a journey into the heart of Xmas magic.
2. Vienna, Austria: A Classical Christmas Affair
Vienna transforms into a winter wonderland during the holiday season. Walk through traditional Christmas markets, savor warm mulled wine, and enjoy a magical concert at one of the city's historic concert halls. Vienna's Xmas is not just festive; it's a symphony of holiday delight that will leave you enchanted.
3. Quebec City, Canada: Winter Wonderland
Quebec City, Canada, offers a picture-perfect Xmas with its cobblestone streets and historic architecture blanketed in snow. The Old Town exudes charm with its European flair, featuring festive markets, ice skating rinks, and delicious French-Canadian cuisine. Quebec City is not just a place; it's a step back in time to a Christmas straight out of a storybook.
4. Reykjavik, Iceland: A Frosty Christmas Adventure
For a Christmas vacation filled with adventure and natural wonders, head to Reykjavik, Iceland. Explore ice caves, relax in geothermal hot springs, and witness the ethereal beauty of the Aurora Borealis. Iceland's Xmas is not just chilly; it's cool, captivating, and filled with the magic of the winter season.
5. Sydney, Australia
Swap snow for sand this Christmas in Sydney, Australia, where the holiday season coincides with the southern hemisphere's summer. Celebrate on Bondi Beach with a beachside barbecue, catch some waves, and bask in the warmth of the Australian sun. It's a unique Xmas experience that turns tradition on its head in the most delightful way.
6. Tokyo, Japan: A Technicolor Celebtration
Tokyo, Japan, dazzles with vibrant lights and futuristic Christmas displays. Explore the dazzling illuminations, indulge in festive street food, and witness the city's unique take on holiday celebrations. Tokyo transforms Xmas into a kaleidoscopic adventure for the senses, making it a destination like no other.
7. Strasbourg, France: The Capital of Christmas
Strasbourg, France, proudly holds the title of the Capital of Christmas, boasting one of the oldest and most enchanting Christmas markets in Europe. Lose yourself in the medieval streets adorned with twinkling lights, savor local delicacies, and discover handmade crafts at the market stalls. Strasbourg is not just a destination; it's a fairytale brought to life.
8. New York City, USA
No Christmas getaway list is complete without the iconic New York City. Marvel at the towering Xmas tree at Rockefeller Center, skate at Central Park's Wollman Rink, and witness the dazzling displays along Fifth Avenue. The city that never sleeps truly comes alive during the holiday season, offering a spectacle that's larger than life.
9. Zermatt, Switzerland: A Snow-Covered Alpine Retreat
For a quintessential white Christmas, Zermatt in Switzerland is a dream destination. In the Swiss Alps, this charming village offers breathtaking views of the Matterhorn, world-class skiing, and a cozy atmosphere. Zermatt is not just a destination; it's a serene escape for those seeking a tranquil holiday surrounded by nature's grandeur.
10. San Miguel de Allende, Mexico: A Colonial Christmas Fiesta
Escape to the heart of Mexico for a Christmas filled with vibrant colors and cultural richness in San Miguel de Allende. A UNESCO World Heritage site, San Miguel de Allende comes alive with traditional posadas, festive parades, and lively mariachi music. Immerse yourself in the warmth of Mexican hospitality and create Christmas memories with a touch of colonial charm.
11. Edinburgh, Scotland: A Whisky-Fueled Christmas
Edinburgh's historic charm is elevated during the Christmas season. Wander through the medieval streets, attend a traditional ceilidh dance, and warm up with a glass of Scotch whisky. The city's festive atmosphere and Scottish hospitality create a Christmas getaway that's infused with the spirit of the Highlands.
12. Queenstown, New Zealand
Experience Christmas in the Southern Hemisphere's adventure capital, Queenstown. Surrounded by stunning landscapes, you can enjoy outdoor activities like bungee jumping, jet boating, and hiking, all while soaking in the warm summer vibes. Queenstown is not just a destination; it's an adrenaline-fueled Christmas adventure for the thrill-seekers.
13. Barcelona, Spain
Barcelona's architectural wonders take on a festive glow during Christmas. Explore Gaudi's masterpieces, stroll down La Rambla adorned with lights, and indulge in Catalan traditions. Barcelona offers a unique blend of art, culture, and holiday spirit, making it a Christmas getaway that's both sophisticated and lively.
14. Nuremberg, Germany: Gingerbread Dreams and Mulled Wine
Nuremberg's Christkindlesmarkt is a Christmas market that captures the essence of the season. Savor the aroma of gingerbread cookies, sip on warm mulled wine, and shop for handmade ornaments. The medieval charm of the city provides a backdrop to a traditional German Xmas, making Nuremberg a destination that feels like stepping into a holiday fairy tale.
15. Kyoto, Japan
Wrap up your Christmas journey in Kyoto, where ancient traditions meet winter serenity. Explore historic temples, participate in traditional tea ceremonies, and witness the beauty of snow-covered landscapes. Kyoto offers a peaceful and reflective end to your global Christmas adventure, inviting you to discover the serenity and elegance of a Japanese winter.
Let's Wrap Up
As the Christmas countdown continues, these 15 destinations beckon with the promise of unique and unforgettable experiences. Whether you're drawn to the snowy landscapes of Lapland, the sunny beaches of Sydney, or the cultural richness of San Miguel de Allende, each destination on this list offers a distinctive take on the holiday season.
So, dust off your passport, pack your favorite holiday sweater, and get ready to unwrap the gift of travel this Christmas. May your holidays be filled with joy, wonder, and the magic of new memories in these enchanting Xmas getaways around the world.